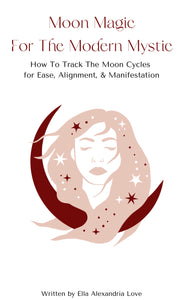 This is a digital e-book, and will be sent out upon completion on about 6/6/22. 

Moon Magic for the Modern Mystic is your easy guide to living in sync with the moon's natural cycles.
As women, we are governed by the moon. Society, however, is predominately masculine and disconnected to nature. As women, we must be diligent in our intention of living in alignment with nature.
The moon moves through different phases and signs throughout the month, which effects the way we feel and think. When we become aware of and tap into these different placements, we can flow more gently and create less resistance in our lives. 
In this guide, I will teach you how anyone can live in sync with the moon's natural rhythms, creating a deeper sense of ease, alignment, and more efficient manifestation.
There are 50 available as per-sale pricing, before it goes to full price of $88.88 on 7/7/22. 


Blessings,
Ella Alexandria Love
support@systemsandalchemy.com